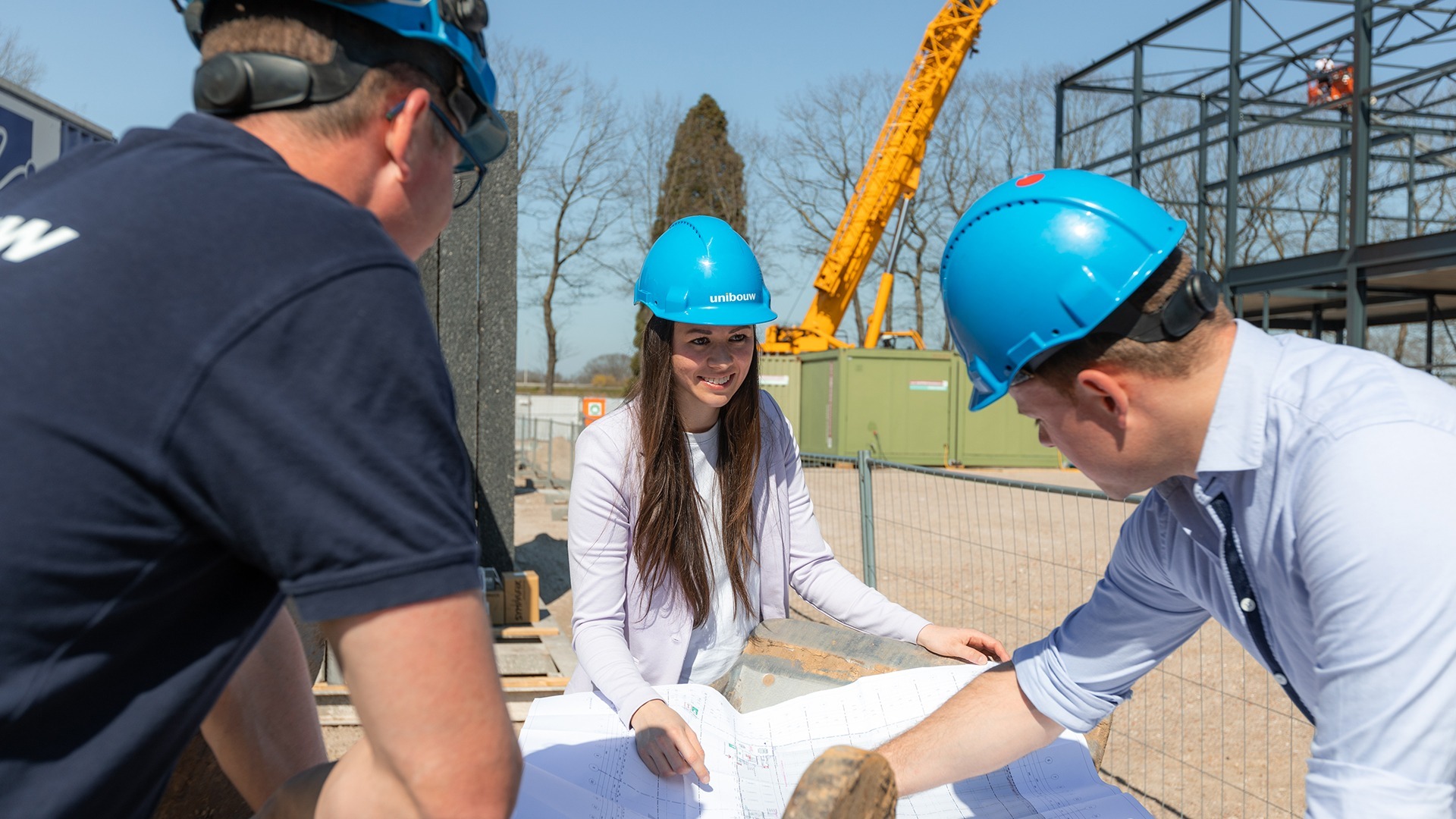 We build according to the Unibouw method, based on modular system construction. This method enables us to arrange the construction process as efficiently as possible, thereby minimising construction time and keeping building costs under control.  Do you want problem-free construction, knowing what you are about, and with an optimum logistical flow in your business process? Unibouw is your contemporary construction partner 
Working method
Realising the plan is one of the last steps towards new business premises. The design and licences have been sorted out. The building team knows exactly what it needs to do; the various components have been ordered, and are being delivered to the building site on schedule. Realisation involves nothing more than fitting together the various components on the building site.
Communication
You want to stay well informed and to see with your own eyes that everything is going to plan. In this phase, too, you know exactly where to direct your questions. Your contact person keeps you informed, and you are invited to the construction meetings. If you wish, you remain fully involved.
Turnkey projects
We hand over the building, exactly as agreed. Turnkey projects are in which we take care of everything, so that all you need do is turn the key, and can start immediately on the interior arrangements.
The realisation of business premises
Before we can start on the actual realisation, we make a number of preparations at the construction site. These can include provisions such as electricity and water for construction, a stock of mobile huts, waste containers, barriers and advertising signs. After that, we prepare the site for building and lay the foundations. As soon as that is ready, we take care of laying the drains and sewers.
The backbone of the building is formed by the steel structures. This material is strong and of a high quality, and is long-lasting. The choice for such a structure is determine by schedule of requirements. Where necessary, the steel structure is furnished with fireproof cladding. The fitting of frames, windows and doors ensures that the premises will keep out wind and water. We then install the industrial doors and, if appropriate, docking facilities. Once the premises are wind and watertight, the floors are cast. These floors are durable, wear-resistant, and easy to maintain and keep free of dust.
When the above items are ready, we start on the complete electrical systems such as lighting and power supply. The office, too, is fully finished, with sewers, water supply, sanitary facilities and ventilation. The exterior of the premises is also fully finished. Examples here are the paving, fencing, and planting of greenery.