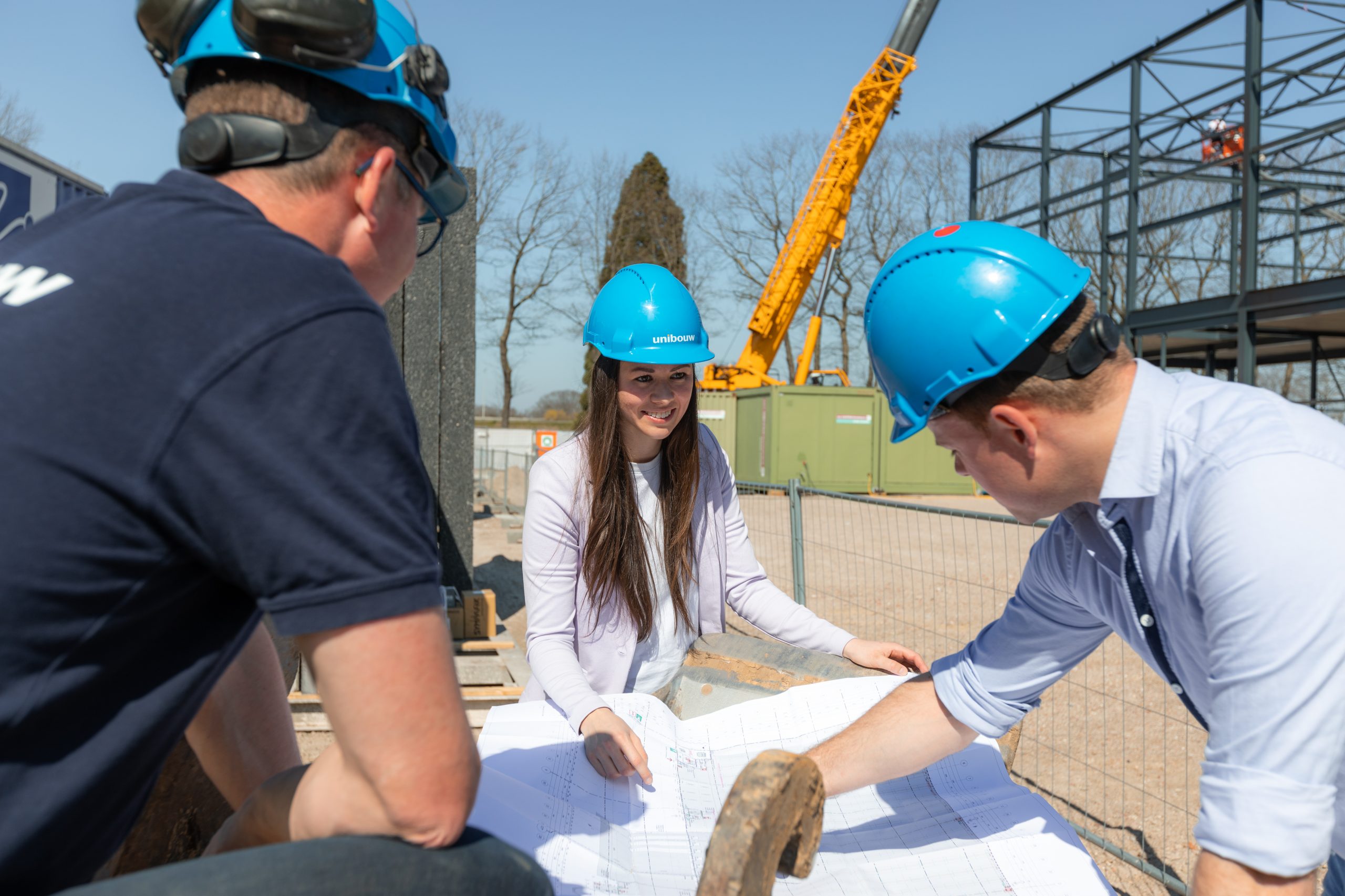 As a project leader with Unibouw, it is your job to deliver the projects with a positive return and on time, thereby ensuring continuity in customer relations. You answer to the Head of Realisation and lead one or more site foremen. You have close contact with the customer, the operating staff and other external parties such as suppliers, subcontractors and local authorities.
Which tasks does the position involve?
Together with the project team, which you direct and coordinate, you are involved in the projects from the moment of development up to and including the realisation and handover.
You take care of the technical and financial details, and evaluate these.
You advise and carry out the technical supervision in the design phase.
You coordinate the necessary teamwork, check the technical specifications, and draw up a cost-price calculation.
With your acute eye, you promptly identify any problems in the project and, off course, resolve these.
In addition, you are responsible for both contract management and risk management, and for recording project data correctly.
You also handle the procurement process for materials and services from subcontractors.
For each phase of the project, you record this meticulously in a report.
You have good contact with the project team, and know everyone's strengths.
With your personal approach and good communication skills, you are able to maintain customer loyalty. You are quick to see what is expected. After all, you are co-responsible for the generation of the contract. You know better than any other how to correctly translate that into the end product. You place great emphasis on innovation. For that reason, you make sure that BIM is correctly employed in the project.
In short, a broad function with responsibility, freedom, cooperation and opportunities.
Who are we looking for?
You are currently a project leader in a comparable working environment.
You have completed a university-level course in structural engineering.
In addition, you have at least 5 years of work experience in a similar position.
Because Unibouw put the customer first, it is important that your competencies are developed in this respect.
Your communication skills are very good.
Your flexibility enables you manoeuvre at various levels.
You have strong empathy, and you are result-oriented in your work.
You have good administrative skills.
You are a team player, and want to attain the goals together with others.
What do we offer?
As well as a multi-faceted function, you will be in a dynamic, constantly developing working environment. Unibouw is a young organisation with a good name in the world of business accommodation. Naturally, Unibouw offers an appropriate salary combined with an excellent bonus scheme and fringe benefits.